iPhone
by dervish on Jul.10, 2022, under Apple, iOS, iPhone, Linux, Security
Synology VPN Server
Forward ports 500, 1701, 4500 to server
VPN Server: Enable L2TP/IPSec, confirm Authentication is MS-CHAP v2, and set pre-shared key
IPad/IPhone VPN Client: L2TP w/ secret
Windows VPN Client: L2TP/IPSec with pre-shared key
Windows VPN Adapter Options:
Set VPN adapter Security Tab to Layer 2 Tunneling Protocol with IPSec (L2TP/IPSec)
Set Requires encryption (disconnect if server declines)
Set "Allow these protocols" and enable Microsoft CHAP Version 2 (MS-CHAP v2)
Leave a Comment
more...
by dervish on Aug.11, 2012, under Hacker, iPhone
How to jailbreak the iPhone 3G 4.2.1 with baseband 5.15.04 for use with a T-Mobile prepaid SIM.
Obtain T-Mobile SIM
Download the 4.2.1 IPSW Firmware (download)
Download and run redsn0w to jailbreak
– use above IPSW file when requested
– Options: Install Cydia (required), Install iPad baseband (required), Enable homescreen wallpaper (optional)
From Cydia, install UltraSn0w to unlock
Update MMS settings for T-Mobile
Phone should now be on the T-Mobile network with the ability to send text and MMS messages.
Import/recover old SIM contacts (optional)
– Install old/obsolete SIM card
– Go to Settings -> Mail, Contacts, Calendars -> Import SIM Contacts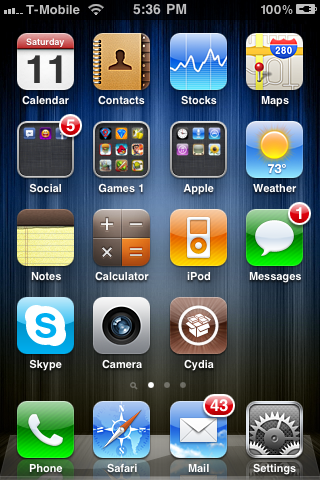 Leave a Comment
more...